If there is one thing I love in this life, it is the little town in which I live. There is no other time I like best than Children's Day. This is the day where the community converges to intertwine their time and talent to birth a production that rivals any other Americana town in the nation. The energy that exudes from our little hill is both amazing and contagious. As I was reflecting upon the loveliness of our amazing town, I revisited my previous blog entries about Children's Day and I noticed I was missing ONE thing. The Worship Service. Funny thing is, I run the dang thing and I did not mention it. Not even ONE word. My kids are even in it...not sure what I was thinking there. Anyway, here I am; not only to tell you about how awesome this year's Children's Day was, but to fill you in on the last little piece of the Children's Day pie.
The Worship Service
Every year, from its inception, Children's Day weekend would end with the Worship Service. Let's face it, ours is a Methodist Community that has evolved into our beautifully eclectic community that is about as mixing pot as you are going to get. It is a precious little haven, full of talent, beauty, fun and a little bit of seclusion. Our little haven started as the Summer retreat in the "mountains" for the Methodists; the sister retreat place of Ocean Grove, by the sea. Back then, the occupants would leave, but today our neighbors live here year round.
Every year, our Worship Service takes place at the Tabernacle, now a non-religious place where others gather for community events and concerts. We do have a sprinkling of the original service included, but for the most part, we aim to remain non denominational as to include all walks of faith. There are some traditional readings, a lot of singing, a great sermon by the local pastor, blessings, and even some dancing too! This year, we were blessed with a guest speaker, who took us WAY back to when the Methodist Church began (he even came in costume) it was awesome. He shared such great history with us, but one of my favorite things was how he shared about the love of song by the early Methodists and how he himself was drawn into the faith by the lure of a song.... quite interesting! I find it interesting since I am lover of song and enjoy being led to choose which songs to include each year. My most favorite song this year actually came to me at the pool. I was playing music on my iPad and a song came up, one of my favorites, calling Blessings, by Laura Story. It has always been one of my favorites, filled with soothing melodies accompanied by compassionate lyrics. My daughter got out of the pool to dry off and she joined me in singing the song. When it was through, I turned to her and said, "you should sing that song for Worship Service this year!" to which she replied, "ok!" with a shrug. Settled. One less thing I had to plan for the lineup. This year was shorter than others, due to my crazy schedule, so I was content to know there was one less I had to worry about.
At the Worship Service
It was almost 11am. Go time. All ready to go, except a lost shirt was not found for one of the girls. Minor glitch. Thankfully, there was not any fuss regarding the shirt and we moved on. Everything was in place, the mood was calm. The first song went well, an opening of Joyful Joyful (just the first verse) and the presentation of the court. Quick Call to Worship by the court and off to our 2nd song, Blessings; sung by my daughter, Rachael. I quickly pulled out my phone to video tape her song; I stood as still as I could and started to settle into the beauty of the song, only to quickly realize that Rachael was singing a song about how the disappointments of life can be a blessing in disguise. I must share with you that Rachael was the only one out of her friends at the worship service that did not get picked to be on the Royal Court this year. She was really sad that she did not get a place, but it made the song all the more meaningful. Here she was, singing about how being disappointed in life only reminds us that there is a greater glory in heaven that we all long for, every last one of us and that whatever glory may come, it pales in comparison to what God has stored for us as blessings in the the next life. It was touching beyond words, especially since I know, she was so nervous, there was not a chance that any of what I just wrote was going through her mind. (and I asked her later, to which she said, "thanks for reminding me..." Ugh....maybe I will explain it to her later)
I was very proud of my girl, for being brave enough to offer her talent and the sing that touching song. Even her mistake was so perfect. Just in the right spot. Sometimes like life, for every one of us. Beauty in the ashes. Good things that seem bad.

We had some readings from Holy Books by the court, which was followed by my other daughter, Vianne and her friend Lyla. They sang "What Faith Can Do" by Kutless. That song was chosen by them and was special as well because of a great retreat I was able attend this weekend. (I know...don't even go there) One of the main components of the weekend was the theme of faith and how our job is to have faith that when we put our lives in the hands of God and allow Him to flow through us, we will live a life that is fulfilled, more than we could ever provide by our own doing. Two songs that can easily be seen as the hand of God over the service.
We were then treated to a special speaker Peyton Dixon, who was a complete delight, filled with amazing historical facts, delivered in a way that was delightful and witty. You can find his site here: http://www.foundersfaith.com/foundersfaithsimon.htm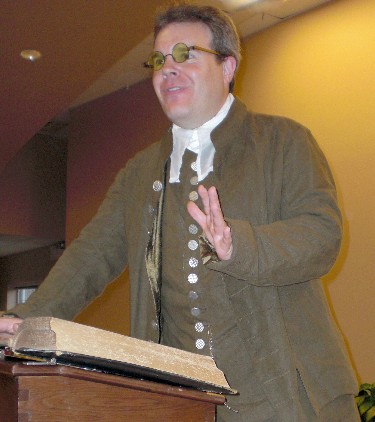 Followed by an offering for the Mt Tabor Fire Department, a song, Congregational Prayer, a blessing, and our ending song, Jump, where anyone who wishes may join on the stage for the annual tradition. We have been dancing this song as a close for so many years that the kids who originally did it are now college grads with professional jobs. It's such a great way to end the weekend together. Outside, the very last thing we do is share some brunch on the patio...and oh....go home and take a nap!
Hope you enjoyed the tour!
All the best,
Loudly yours,

Alicia